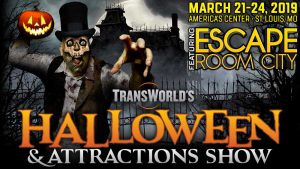 Transworld 2019 is coming up fast
This year will have tons of new product lines, merch, and a new invigorated staff.
We have done more this year than ever before and we are certain it will show.
So if you want to see the Transworld show products sales list so you can pre-buy those items. just email toby at gore-galore.com for the list.
And don't forget to attend the Saturday night Vampyre Ball. We have provided a photo op to give away at the party. Plus we will be there with Giant Costumes for a Monster Dance Party.
So, come see us at Transworlds Halloween and Attractions show to get your year started off right.