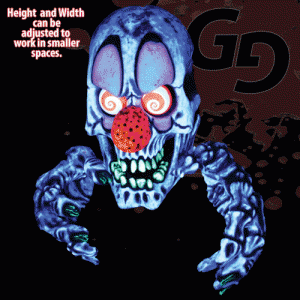 POGOLIATH
Actormatronic Nasty Giant Clown Skull and hands, mounted on 3 independent tracks capable of grabbing at or biting your customers.
Or Just head only on 1 track
also available as haunted house style (more compact) or hayride style ( wide reaching arms)
Product Video
---
More About POGOLIATH
---
Actormatronic Nasty Giant Clown Skull and hands, mounted on 3 independent tracks capable of grabbing at or biting your customers.
2 styles available: 1. the haunted house style which is easier to operate can fit in tighter spaces. 2. the Hayride style which is the most movement and abilities. Arms can outstretch up to 14′ for maximum impact. Actor controls: sliding arms forward and back with ALL kinds of motion, plus pushing head with belly bar forward and back on track, head rotation, turning left to right, up and down movement, audio, and jaw movement. Comes complete with actormatronic w led eyes, and pneumatics to control jaw movement, control arm w push button controls, counterweights, 8′ track, 4 wheel trolley, chain for suspending actormatronic, 40′ cat 5 for wiring, 40′ 1/4 airline, regulator w moisture trap, audio and led control board w sd card with programmed sounds, and a weatherproof enclosure.
Add 200 watt powered Speaker for $300 including cable.
Shipping yet to be determined