Both our websites. Gore Galore and the Halloween music websites have been moved to Rogues Hollow, and updated to the current themes. We were having some serious issues with an outdated wordpress format. That problem has been remedied. But please email us with any issues you might be having at info at gore-galore.com.
Plus did you realize we have been in business 25 years this coming season?
And our owner has been haunting for over 35 years now.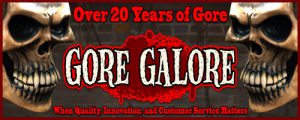 ---